Job Information
Production Control Officer(Planning and Material Officer)
Company Information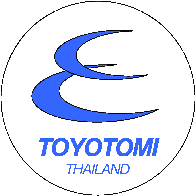 Contact Name
Human Resource Division
Contact Email
recruit@toyotomi.co.th
Job Information
Salary Range
- - Company's salary structure
Department
Production Control
Category
Production Control
Sub Category
Production Control Officer
Shift
Morning (07:30-16:30 or 08:00-17:00)
Requirements
Minimum Education
Bachelor's Degree
Degree Title
Major B. Eng. Industrial or relate
Minimum Experience
2 Year (Planning control, Production control, Material control and MRP system (Material Requirement Planning))
Job Status
Start Publishing
10-03-2021
Stop Publishing
10-03-2022
Location
[Bang Pakong,Thailand ]
Description
To Stock control, check, modify and monitoring.
Ensure production planning comply with customers requirement with regards to volume and schedules.
Focus on production priorities to meet targets.
Monitoring work performance of each process to align with volume / Input data forecast from customer.
Calculate Production Plan/Kanban.
Daily follow up Kanban turnover and monitoring.
Order raw material and monitoring.
Follow up the production capacity & output of each process / Calculate Production Capacity.
Follow Production order to complete production planning.
Review and Monitoring order Supplier and Customer.
Input data in MRP file such as stock on hand, receiving the plan of RM and amount, FG and PO on hand, actual consumption.
Responsible for ISO documents.
Support Supervisor about production report and any requirement.
Qualifications
Male, Age 25-30 years old.
Thai Nationality.
Bachelor's Degree in Engineering (B.Eng) Industrial or any related fields.
Minimum 2 years working experienced in Planning control, Production control, Material control and MRP system (Material Requirement Planning).
Preferred Skills
Have experience in Automotive part will be advantage.
Have experience in Kanban system and TPS will be advantage.
Able to work well under pressure.
Possesses strong Lean manufacturing and problem - solving skills.
Possess a good understanding of safety and environmental standards and concerns.
Good command of English language (Reading and Writing).