Job Information
Accounting / Costing Officer
Company Information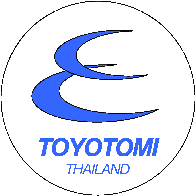 Contact Name
Human Resource Division
Contact Email
recruit@toyotomi.co.th
Job Information
Salary Range
- - Company's salary structure
Category
Accounting/Finance
Sub Category
Accounting / Costing Officer
Shift
Morning (07:30-16:30 or 08:00-17:00)
Requirements
Minimum Education
Bachelor's Degree
Degree Title
Managerial Accounting, Finance or relate
Experience
Fresh - 4 Year (costing or engineering cost )
Job Status
Start Publishing
10-03-2021
Stop Publishing
10-03-2022
Location
[Bang Pakong,Thailand ]
Description
Daily Checking NG and work result with Production.
To summary problem to costing chief and feedback to Production every week.
To summary indirect data from Production.
Recheck material and main consume on Program Prones.
Booking purchase invoice for steel sheet.
Make details about material, indirect, direct month end.
To pick-up data such as Production and well.
Checking Inventory Balancing Report of the month.
Reconciling beginning raw materials, work-in-progress and finished-goods stock.
Making report which related to cost matter.
Prepare document for monthly closing.
Recording cost information for use in controlling expenditures.
Other tasked as assigned.
Qualifications
Male/Female age not over 26 years old.
Thai Nationality.
Bachelor degree in Managerial Accounting, Finance or related field.
Minimum 0-4 years work experience in costing or engineering cost.
Preferred Skills
Experience working with engineering and manufacturing personnel on development and analysis of cost standards will be advantage.
Must have strong problem-solving skills, analytic skills and good communication.
Good command of both written and spoken English.
Ability to work under pressure and meet tight deadlines.
Be high responsibility and prompt to learn something new.