Job Information
Purchase Officer
Company Information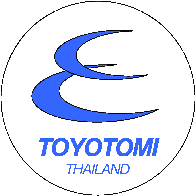 Contact Name
Human Resource Division
Contact Email
recruit@toyotomi.co.th
Job Information
Salary Range
- - Company's salary structure
Sub Category
Purchase Officer
Shift
Morning (07:30-16:30 or 08:00-17:00)
Requirements
Minimum Education
Bachelor's Degree
Degree Title
Business Administration of related field
Experience
1 Year - 3 Year (Experience in purchasing)
Job Status
Start Publishing
10-03-2021
Stop Publishing
10-03-2022
Location
[Bang Pakong,Thailand ]
Description
Sourcing new supplier and bench marking in order to have more alternative and reduce risk from sole source.
Control supplier activity: Price update, supplier evaluation.
Monitor delivery and P/O outstanding and report to Manager.
Import process and coordinate with shipping.
Prepare necessary reports to Manager.
Responsible for ensuring Procedure and WI is update.
Working on Manager assignment.
Control and take care job assignment to subordinator.
Control and morning delivery for meet department target.
To cooperate and keep good relationship with all concern parties.
Control to cost down with supplier.
Respond and mange employees of subordinate according to safety legal requirement.
Prepare and analysis purchase report.
Qualifications
Male and Female age between 27-32 years old.
Thai Nationality.
Bachelor Degree in Business Administration of related field.
Minimum 1-3 years experience in purchasing.
Preferred Skills
Knowledgeable in quality standard ISO/TS.
Good computer skills (MS Officer).
Have experience in filed sourcing, purchase, supply chain.
Eager to build on your existing skills and to develop your career.
Ability to work under pressure of deadlines.
Able to command in English.